Wir sind die Swamp Conspiracy – wenigstens ein Teil davon!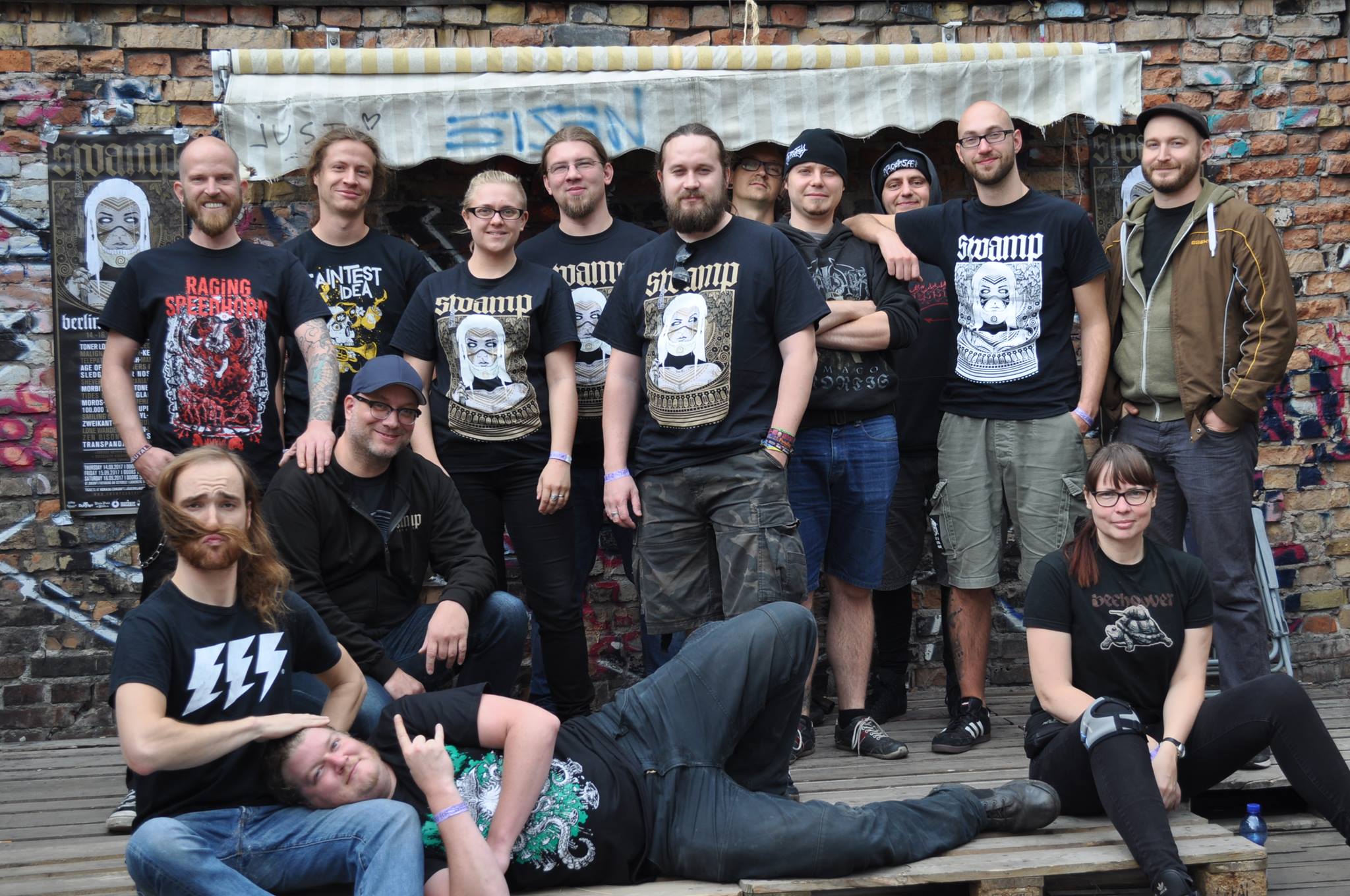 DE
Vereinsziele Swamp Conspiracy
Der Verein setzt sich dafür ein, dass Berlin und das Umland eine kreative Spielwiese für Musiker*innen, Künstler*innen und Kulturschaffende ist, die Genregrenzen aufbrechen und neue Wege gehen wollen. Dafür planen und organisieren wir Shows, Events und Workshops, die den Berliner Untergrund vernetzen und stärken. Gemeinsam sorgen wir dafür, dass Berlin auch in Zukunft ein Zuhause für alle sein kann, die sich selbst verwirklichen wollen – egal, woher sie kommen und was sie antreibt.
Unsere Werte:
Freundschaft – Wir sind Freund*innen. Gemeinsam wollen wir die Szene, in der wir uns zu Hause fühlen, unterstützen und einander mit Rat und Tat zur Seite stehen.
Offenheit – Neuen Ideen und Projekten stehen wir offen gegenüber. Wer sich uns anschließen oder eine Idee umsetzen möchte, findet bei uns ein offenes Ohr.
Hilfsbereitschaft – Wir unterstützen uns gegenseitig und andere Projekte, Vereine, Räume, Veranstaltende und Kulturschaffende im Berliner Großraum. Denn wir glauben, dass wir gemeinsam mehr erreichen können. Daher bieten wir unsere Hilfe allen an, die uns darum bitten.
Selbstverwirklichung – Wir wollen, dass sich die Szene frei von reinen Profitinteressen kreativ entwickeln kann. Dafür braucht es Freiräume, in denen sich einzelne Personen und Gruppen weiterentwickeln und dazulernen können. Jede*r kann sich bei uns verwirklichen, eigene Projekte umsetzen oder Mitstreitende finden.
DIY – Wir packen selbst an. Wir wollen so viel wie möglich selbst gestalten, bestimmen und umsetzen können. Um eine gute Qualität bei unseren Projekten zu gewährleisten, arbeiten wir mit erfahrenen Unterstützenden der Szene zusammen und vernetzen diese dadurch auch untereinander.
EN
What we strive for – Swamp Conspiracy
The non-profit organisation strives to make Berlin and surroundings a creative playground for musicians, artists and other creative forces that want to break up genre boundaries and explore new paths. We organise shows, events and workshops with the aim to strenghten and interconnect the Berlin underground. Together we ensure, that Berlin will stay a home for anybody that wishes to realise themselves – wherever they come from or whatever drives them.
Our Goals:
Friendship – We are friends. Together, we want to support the scene we call home and support each other.
Openness – We are open for new ideas and projects. Whoever wants to join us or turn an idea into action, can come forward at any time.
Cooperativeness – We support each other and other projects, groups, venues, organizers and creative people in the greater Berlin area. We strongly believe that we can achieve more if we work together. Thus, we offer help to everyone that asks for it.
Personal growth – We want to make sure that the scene can develop independently from pure interest in profits. Therefore, open-minded spaces are necessary where individuals and groups can learn and grow. Every person can further develop or set up their own projects and find companions in the Swamp Conspiracy.
DIY – We tackle projects ourselves. We would like to shape, decide and implement as much as possible ourselves throughout the process. To provide a good quality in our projects, we work with proven experts and supporters of the scene and thus connect them with each other as well.
Kontakt | Partner
22. Mai 2016 um 17:05